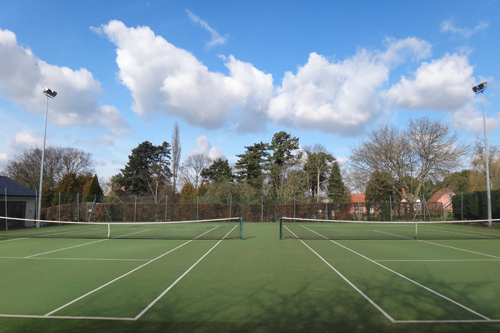 Thaxted Tennis Club has two flood lit Astroturf courts and is situated in the picturesque village of Thaxted in North East Essex.
Membership of TTC runs 1 April to 31 March. As well as allowing free use of the courts all year round, membership of TTC entitles players to discounts on many coaching sessions. Membership also gives individuals the chance to represent the club in match play.
To sign up as a member please
visit: http://thaxtedtennis.org/membership/
Regular group coaching sessions are available for adults and juniors.
Junior Tennis
Summer Courses:
Friday Coaching Start Date: 26th April – 24th May 2019
Summer Term Start Date: 7th June
Session Name
Day / Times
Age Group
Weeks
Members Rate
Non-Members Rate
Coach
Red Titans
Friday 3.45 to 4.30pm
6 to 8 years
5
£20
£25
Thomas Butler
Green Titans
Friday 4.30 to 5.15pm
8 to 9 years
5
£20
£25
Thomas Butler
Yellow Titan Squad
Friday 5.15 to 6.15pm
Match Players (max. 4 children)
Invitation only
5
£20
n/a
Thomas Butler
Adult Tennis
In addition to the various formal matches going on each week for the various men's, ladies' and mixed teams, there are also clubnights, club competitions and various social events that you are welcome to take part in, all of which are well-supported by our friendly members.
Wimbledon Wannabees
Term Start Date: 3rd May – 24th May 2019
Summer Term Date: 7th June – 12th July 2019 (6 weeks)
New Beginners Session
Starting Summer 2019 our new beginners classes on a Thursday and a Friday.
Introductory prices!
Thursday Beginner Class Start Date: 2nd May (4 weeks)
Friday Beginner Class Start Date: 3rd May (4 weeks)
| Session Name | Day / Time | Weeks | Members Rate | Members Pay Weekly | Non Members Rate | Non Members Pay Weekly |
| --- | --- | --- | --- | --- | --- | --- |
| Beginner Session | Thursday / 1.30 to 2.30pm | 4 | £16 | £6 | £24 | £8 |
| Beginner Session | Friday / 12.15 to 1.15pm | 4 | £16 | £6 | £24 | £8 |
| Wimbledon Wannabees | Friday / 1.15 to 2.15pm | 4 | £20 | £8 | £28 | £10 |
Cardio Tennis
Tennis to music!!!
Tuesdays 7 to 8pm
Social Tennis
Tuesday 8 to 10pm
Thursday 7 to 10pm
Saturday 1 to 6pm
Ladies' and Men's team practices generally run from 7:00 to 8.30pm on Monday and Wednesday evenings (subject to court availability) and cost £8.50 per player. These sessions focus on more advanced drills and doubles tactics.
I'm also hoping to to set up a beginner/intermediate group to run one morning per week – if this would interest you please drop me an email to let me know what times/days would suit you.
Summer School
TTC summer school is in its 13th year and for 2018 we have lots more fun and games planned!
As always, the course will be run by fully qualified LTA & RPT coaches and assistants which will ensure that all participants are taught to the highest standard. The course aims to improve ball skills and stroke techniques and will cater for all ability levels.
Players will be grouped depending on age and experience into coaching groups. Players from each coaching group will be put into "houses" and earn points for their "house" each day. Members of the winning house will receive an award at the end of the week!
Week 4: 19th August to 23rd August 2019 – 10 Spaces Left
Please note that if you wish to cancel a summer school place, 14 days notice is required to give us an opportunity to fill the space.  If you cancel within 14 days of the start of the summer school you have booked, we regret that no refund is available.